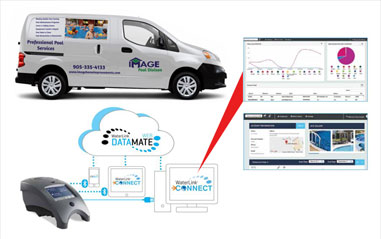 CORRECTLY BALANCED POOL WATER IS CRITICAL
We come to you!
Test Your Pool Water Using Advanced Technology
Balance Pool Chemistry
Convenient! Worry free!
Cloud Technology:
Summary E-Mailed To You
Managed Centrally
Technicians use I-Phone
Remember:
We perform this FREE SERVICE from May 1 to August 31.
INCLUDED in Pool Maintenance Programs.
When we Open & Close your pool you are offered the Mobile Pool Testing service; and only pay for the chemicals and spin disks used. NO ADDITIONAL LABOUR FEE FOR MOBILE TESTING.
If we do not open and close your pool there is a charge for Mobile Pool Testing.
All chemicals used to balance the pool water MUST be purchased from Image Home Improvements Inc. Some conditions apply.
Price:  
$36.22 + HST Per week (visit)
$144.86 + HST Per Month (4 Visits)
$579.44 + HST Season (16 Weeks)